Houzz's "Kitchen Trends Study" from fall 2013 found that 52% surveyed want to upgrade their appliances. Of those appliances that are part of a new kitchen project,
65% are installing stainless steel appliances.
jkhomestead.blogspot.com
ksarahsdesigns.typepad.com, via Style at Home
A
few dream high-end appliances from Houzz's survey are a chef's stove, double ovens, and induction cooktops.
businessinsider.com, Brad Grey House Listed 9/2013
casasugar.com, Before and After Twinkle Modern Kitchen Renovation
Come to think of it, I've seen "frameless stoves" or "induction cooktops" referenced a lot with 2014 kitchen trends. One article all about this trend is on wiese.com "Induction Cooktops are Hot in Kitchen Remodeling" from January 2014:
Wellesy kitchen and an induction cooktop and steam convection overns
Jonathan Scott of HGTV Property Brothers told sheknows.com
here
that he has seen "the revival of white appliances, really cool, glass, glossy white appliances, so we've seen a few changes there."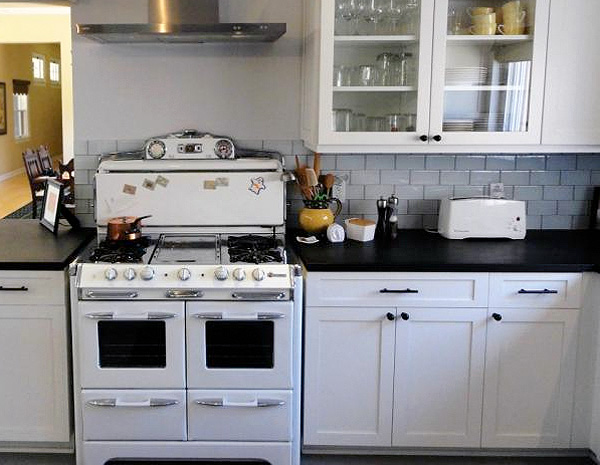 Ken Clark realtor, houselogic.com
Courtneylanemmichaels.blogspot.com has a great post from Jan 2012 that makes a great point. What's wrong with white appliances?
Canadian House and Home
bhg.com
Styleand Home
Coastal Living
According to Remodeling Magazine (remodeling.hw.net), luxury home buyers want
built-in wine refrigerator (58%),
built-in
coffee maker (58%), islands with extra sinks or appliances (55%), outdoor eating area (50%), granite countertops (49%), and flat screen tv (46%).
ohoakcliff.com, beautiful luxury kitchen backsplash tile ideas
Venegas and Company, houzz.com
strattonexteriors.com, 5 Home Remodeling Trends
Once you get to the store, you'll find that there are new appliance color options from many manufacturers. Many appliance makers have a unique finish to their appliances.
Below, GE introduced their new "slate" color in 2013.
A1applianceideas.com
Also (below), GE has a new line called the Artistry Series. With a retro feel, these products are aimed at young first-time home buyers:
GE Artistry Series (in white)
Below, Whirlpool introduced their new "ice" color last year:
abt.com, Whirlpool
And, below, Jennair now has an oil-rubbed bronze color line of appliances.
Warner's Stellan blog
mentions that in the showroom, these appliances sort-of feel like 1970's plywood has been paneled to the front:
Jennair cabinet depth French door refrigerator




Not many of these new finishes work with what's popular right now. I'll be interested to see if any of them take off...
My last post to my kitchen series is next. It's about THE SECRET INGREDIENT.