My headboard is finally done and we hung it up in the master bedroom with the wall lamps this morning! I am excited to post photos!
Wandering around the net today, I found a wonderful article online.
House Beautiful has featured a book about Mark Hampton in an article called "Four Decades of a Stylish Room". Three versions of Hampton's NYC living room are featured from the 70s, 80s, and 90s, the last of which is stunning and timeless.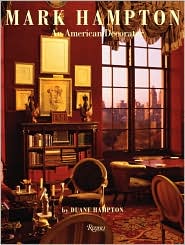 Hampton died in 1998, but his wife Duane has authored Mark Hampton: An American Decorator, which was published April 2010.
Mark Hampton's NYC Apartment, 1970s
The dramatic overdone style of the 1970s comes pouring through in this design. I must say, there is a sense of uniqueness to the room that transcends the decade. The curtains aren't overdone and the herringbone wood floors are classic.
Mark Hampton's NYC Apartment, 1980s
The 1980s design of the same room is not hard to peg. Floral chintz, and pattern everywhere. What a relief the green solid chair is!
Mark Hampton NYC Apartment, 1991
This room has been decorated the same since 1991. This is the timeless design that I am now looking for. He has kept the same coffee table from the eighties, the same sisal rug, the bookcase looks similar to the 1980s design. But the curtains, the walls, and the upholstery is all so neutral. Most of the chairs are the same from the 1980s, but the fabric was worth changing because the chairs are classic Louis XVI fauteuils, and these babies don't go out of style!
The quote from the book is:
"When decorating a room, think about how it's going to age. It hurts to do a room that after a couple of years falls apart psychologically for the people who are going to live in it. If 10 years pass and they still love the room, it gives them more time and money to focus on other things." —Mark Hampton.
As I get more and more experience decorating, my main goal has become: move to the most useful and beautiful design, that is not influenced by department stores and catalogs. I think that working towards something that has history and a bit of novelty mixed in could be the best way to style a room. I am glad to have found Mark Hampton who has put this into words so poetically.