When my clients and I get ready to plan their bathroom remodel, steam showers are often on the wish list for improvements.
Markay Johnson Construction, Atherton CA Residence
Steam showers are credited with many health benefits, including better sleep, more relaxation, reducing anxiety, improving cold symptoms, sinus problems, arthritis, and some say the steam helps with the autoimmune disease AS. (sources: wasana.com, and wikipedia.com "steam showers", "sinusitis", "ankylosing spondylitis") Steam showers are also water efficient. Steam uses about 2 gallons of water in 20 minutes compared to a water-saving shower head at 50 gallons in 20 minutes (source: thisoldhouse.com).
Stone Creek Builders, Fairhaven Residence
Some of my clients worry that the small size of their bathroom or shower means that a steam shower isn't possible. Even a small shower can be fitted for a steam unit. The Amerec AX7.5 could work for a shower as small as 3'x4' with the standard 8' ceiling.
Rasmussen Construction, Mill Valley Residence
Popular brands for steam shower generators (the unit that creates the steam) are Mr Steam, Amerec, and Steamist. Cedarbrook Sauna and Steam in Woodinville, WA recommends Mr. Steam for a few reasons: the repairs and service is easier because the heating elements are easy to replace (some brands you have to replace the entire unit instead of just the element), the unit has a stainless steel exterior, and there is good customer service.
When planning the steam shower, a lot of factors need to be considered.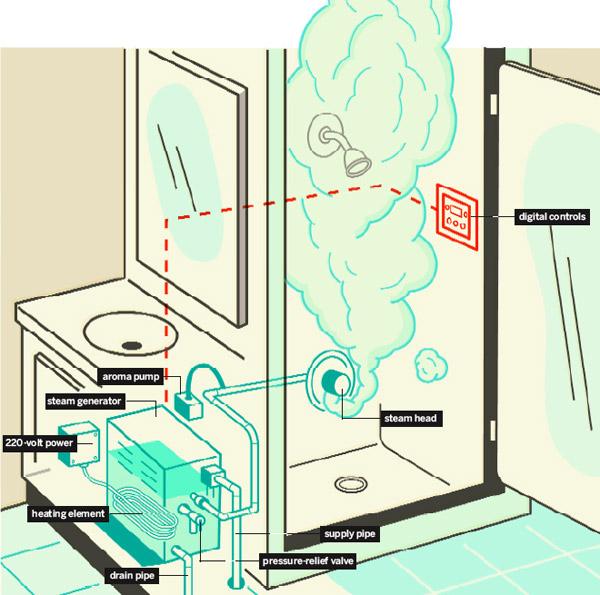 thisoldhouse.com, "Steam Shower: How it Works"
First, can the remodel budget handle the cost of the unit, electrician, plumber, and control panel. This can cost anywhere from $1500 to $4000 depending on the brand of steam unit you choose, the size of the shower, and your local contractor rates. The steam shower I worked with last summer in Salt Lake was an extra $3700 for a shower that was 120 cubic feet.
Second, can the steam unit (which is usually about the size of a desktop computer tower) be hidden somewhere near plumbing and electrical in a heated attic space, shower bench, vanity cabinet, or closet and within 25' of the shower? Most often, a nearby vanity cabinet is used, and might use up valuable storage space.
Third, will your existing plumbing and electrical work with the unit? The steam generator will have it's own electrical circuit breaker and plumbing hook ups (source: Mr. Steam).
Forth, can the remodel budget handle the special products needed for waterproofing the entire shower room? The membrane, thin set, tile, grout, and glass installation all need to be approved for steam shower use. These are usually more expensive products, but not always. The type of tile chosen effects the capacity of the steam unit, so pick those together. The entire room must be enclosed, which means your glass dealer will add a transom at the top of the door and a gasket at the bottom of the shower door. The ceiling will be tiled and sloped to send condensation back down the walls and to the drain. Bench construction cannot have any wood (source: Slow Home Studio).
Thyme & Place Design LLC, New York Residence
The luxury of a home steam shower can sound complicated. But at the end of the project, you get to have a shower enclosure that feels like a sauna and gives relaxation and health benefits without using so much water.
If you want help with a room that you absolutely love,
contact me
about my design services.