Couches, while expensive, are one of the most trendy purchases that people make. Case in point: 1970s beauty below . . . Aren't the owners of this leather couch so glad that leather lasts f-o-r-e-v-e-r? Ha!
gettyimages.com
Leather sofas come in many MANY different styles. Style has a huge impact on the decorating!! Even if a sofa is leather, you still need to pay attention to the lines of the sofa to know what other furniture goes with it. Some sofas fit into the modern style, some the traditional style, and some are in-between.
THE ELEVEN STYLES OF LEATHER COUCHES
(Thanks to cozypad.com for the synopsis of sofa characteristics to make this easier!)
1. Knoll (MODERN): thin rectangle back cushions with thin square arms lower than the back, metal feet
interioraddict.com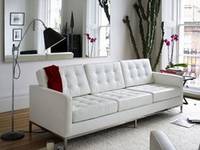 ec21.com, florence knoll sofa with Italian leather
2. Recliner (MODERN): back cushions divided into three columns and two rows, cushion shape repeated in apron, often a pillow is sewn onto the arm for lounging
studentmarket.com
designwagen.com, Mark Webster design
3. Tuxedo (MODERN): straight lines, often the back and arms are the same height
theplacefurnituregalleries.com
4. Slipper (MODERN): no arms, more upright, smaller dimensions for smaller space
bestofasulove2011.info
christonium.com
5. Banquet (COULD GO MODERN OR TRADITIONAL): no arms
6. Lawson (TRADITIONAL): high back, low thick curved arms
hurwitzmintz.com
housetohome.co.uk
7. Chippendale/Camelback (TRADITIONAL): thin frame and small scale, curvy back, delicate rolled arms
noriegafurniture.com
apartmenttherapy.com
8. Bridgewater/Bircharm/English Three-Seater (TRADITIONAL): really high back, low arms, curved in face of arm
flegals.com
housebeautiful.com--obviously not leather, but good example of bridgewater couch decor
9. Chesterfield (TRADITIONAL): button tufting, low back at same height of arms, rolled arms
a1-furniture.co.uk
apartmenttherapy.com
10. Settee (TRADITIONAL): exposed wooden frames with carving and curves
hubpages.com
countryliving.com, love linen; obviously not leather, but a good example of settee couch decor
11. Duncan Phyfe (TRADITIONAL): straight back that curves into arms, sleigh arms, carved wood frame
radaris.com, duncan phyfe
thisnext.com, Horchow Red Tufted-Leather Sofa
And then there are endless combinations, like this antique "art deco" sofa, which is a marriage of chesterfield and settee styles . . .
sellingantiques.co.uk, art deco burgundy leather
So what are some trendy ways to decorate with leather sofas? Classic ways? These will be the next parts in my leather couch craze series.